Want To BE SUCCESSFULL?
LISTEN UP, as Psychologist Shawn Achor is telling us our approach to success in sports and business is backwards! Stating, "We believe we should work hard in order to be happy [and be successful]…unfortunately that approach is WRONG!
In fact taking the harder you work tactic… is the complete opposite attitude we should have. Because, as it turns out, "happiness inspires us to be more productive [to be more successful]."
What is so great, we get to choose!
Now before you think I am playing with your mind, well, in a sense I guess I am, I think we can agree being successful is a function of being effective at whatever we do. U.S. Soccer Player Mia Hamm said it best, "Success breeds success." Well it so happens Dopamine is a motivation molecule that creates focus and concentration, while controlling the pleasure and reward centers of our brain. Simply put dopamine helps you focus on what it takes to be more confident, more successful and upbeat in business or as an athlete! But wait…, there's more. Dopamine is something we can create on our own.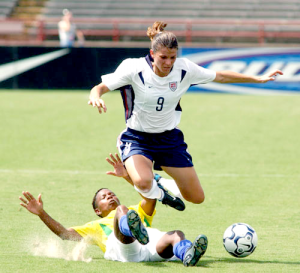 It's a mindset that helps us:
Quit Procrastinating
Eliminate your focus on failure
Start Viewing Hiccups as an Opportunity to Improve
All we need to do is "Change the WHAT" we focus on.
Shawn Achor calls it, "Positive Psychology." Change the lens and focus on the positive and we will – Work Harder – Gain More Success – Be Happier. Just take a few minutes to rewrite our brain to operate more optimistically and operate more successfully by increasing our use of our motivation molecule dopamine. In fact, make Shawn's simple two (2) minute challenge our part of our everyday way of life and we will work harder, we will be happy, and we will be SUCCESSFULL.
It's simple, all we need to do is focus on these five (5) things for the next 21 days and we will improve our approach and our results.
Grateful: Identify three things you are grateful for – Seeing the world more positively
Journal: Post one positive thing you accomplished in the last 24 hours and RELIVE IT
Behavior: Introduce a new approach designed to help you improve what you want to get better at

Meditation: Focusing on a particular task you need done or need to improve on

Random Acts of Kindness: Send one e-mail or text to and individual in your social network telling them Thanks.
Five simple thoughts to help rewrite how we think and it won't be long before we get to reap the rewards of becoming more successful and optimistic in everything we do.
As Jim Rohn said, "Success is nothing more than a few simple disciplines practiced every day."
Check out Shawn Achor's video
Until next Blog Be Happy, Be Successful!