Too often we overcomplicate what it takes to play the game of baseball and thereby loosing sight of the games real objective. Nowhere is this more prevalent than when we teach pitching.
By definition, pitching is the act of "delivering or serving the ball to the batter." As with most techniques in baseball the facts are lost with coaches playing the Chinese Whisper game [one whispers a message to another, and as errors accumulate due to erroneous corrections, the message is completely changed by the end of the line].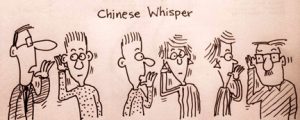 Coaches today seem to be preaching a pitcher needs a curveball or slider to be successful which I argue is modifying the initial whisper, "A fastball with movement is the toughest pitch to hit in baseball."
What is worse, the coaches that do value the importance of the fastball have replaced movement and hitting their spots with radar guns and velocity. Succumbing to the Chinese whisper fallacies and replacing mechanics and efficiencies with some arbitrary velocity.
To win a pitcher has to throw in the 90's to win. In today's world in the high 90's.
Jered Weaver, California Angels, won 18 games averaging 86 mph in 2015 was quoted as saying, "It's more about getting location down…"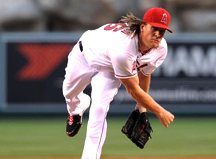 Yet, ask a coach, a college recruiter, or a professional scout to describe what they are looking for in a pitcher; a pitcher who throws hard. I thought it was about winning?
DIBaseball.com described Andrew Beckwith, after throwing the fewest pitches thrown in 9 innings a College World Series game since 1981, "he did not issue any walks, and he induced 15 groundball outs, pitching to contact early in counts and letting his defense work…"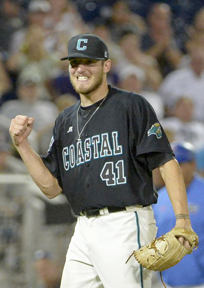 Instead of worrying about velocity Beckwith [does not throw 90], the 2016 Gregg Olson Award for Breakout Player of the Year, describes himself as, "… a contact pitcher, and I really do trust my defense."
The same is true about one of the best, Greg Maddux.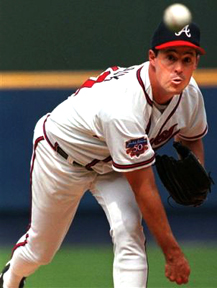 Greg Maddux against the Cubs threw 63 strikes and threw a 9 inning complete game, tossing only 76 pitches.
Inning       Pitches
First:          7
Second:     11
Third:         9
Fourth:       11
Fifth:          7
Sixth:          7
Seventh:    7
Eighth:       9
Ninth:         8
Total:         76
A game Maddux defines as: "I got some first-pitch outs and they didn't hit a lot of foul balls."
As a Coach or as a Player Tell Yourself:
If Andrew Beckwith can trust his defense to pitch a 98 pitch complete game to a 2-1 win against Number #1 Florida
If Jered Weaver can win 18 games for the California Angels in 2015 throwing 86
If Greg Maddux can toss a 76 pitch complete game against the Chicago Cubs throwing and hitting his spots with a fastball that moves
Then developing a fastball that moves should be my focus and realizing success at the highest level will come when I am able to do so and hit my spots.
Until next blog develop your fastball and hit your spots,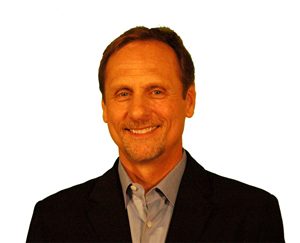 Al McCormick