I am of the belief a catcher's job is to provide the pitcher confidence he can throw any pitch in any count or in any situation. This is important when your creditability, or maybe your career, is dependent upon whether you have a "W" or an "L" in the box scores.
It is true, baseball players are superstitious and this could be a bit of paralysis by analysis, but the end result he is more confident, even if it is because this guy caught his no-hitter sometime ago.
Either way, it begins to make sense why pitchers insist on throwing to one catcher over another.
Sorry for the digression, but I do believe it plays into why I believe "Catcher" is a misnomer. Back in the day catchers were 20-25 feet behind the batter and didn't wear catcher equipment. The game also was very similar to slow pitch softball and teams would score 50-60 runs […not my softball teams; guess they are professionals].
It was not until the 1880s, when pitchers started throwing overhand, that catchers realized they needed protection.
Plato said, "A need or problem encourages creative efforts to meet the need or solve the problem" I am guessing a foul ball here, a foul ball there, encouraged enough catchers to start creating their own variations of protection.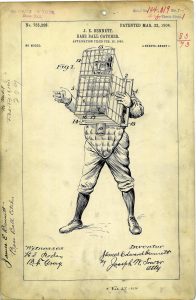 As funny as it may appear and not sure if J.E. Bennett's product was even worn, but I believe it helps identify the true purpose of the person behind the plate.
He is a Blocker first!
Velocity increased as pitchers improved their overhand technique so catching the ball was icing on the cake. OUCH!
Necessity became the mother of invention [sorry Plato] with each bruised hand. According to the National Archives there were around a dozen catcher's mitt patents issued over a 10-year span [between 1885 to 1895] while pitchers perfected their overhand approach. Again, the focus was more on deadening the ball versus catching it.
Check out E.L. Rogers patent.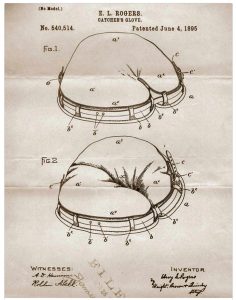 Although no one is aware of who invented the first baseball glove, but [no pun intended] A.C. Butts filed a patent in 1883 the first fingerless glove to protect the catcher's fingers. Unfortunately he forgot padding. So after two years of experiments with everything from sponges to led plates with shock absorbers, G.H. Rawlings patented the padded fingerless glove.
It was from here the"Tools of Ignorance" were born, a phrase coined by either Muddy Ruel [played MLB 1915-1934] or Hall of Famer Bill Dickey [played MLB 1928-1946], an ironic description of the protective equipment worn by a positional player so critical to the success of the game.
Yes, we have streamlined the J.E. Bennett's "Base Ball Catcher" and improved the A.C. Butts and G.H. Rawlings fingerless glove, but the Catcher's role has never changed.
However, after witnessing a college game where a catcher, dropping both knees and blocking the ball in the dirt, he chose to drop to just one knee and attempt to catch it. Resulting in the ball caroming off his lightweight fingerless glove and the winning run to score.
Wait, there's more. I also saw a catcher who attempted to backhand a ball as if he was playing shortstop, but the word, "Olé" comes to mind.
I am feeling a Plato moment coming on!
In much the same way we have improved the equipment over the years, I propose we change the name to fit the task at hand.
From now on, the position behind home plate is called, BLOCKER!
Until next Blog,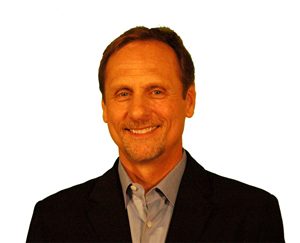 Al McCormick