I realize the odds to throw a Perfect Game seem impossible. Somewhere around "1 in 18,000," but when you consider how much that number is reduced when you accept a walk might happen. The odds are reduced by "16,500" to "1 in 1500" just by everyone doing their job.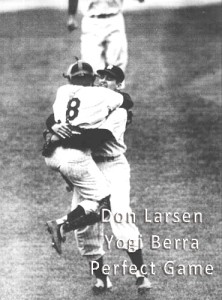 Throwing a No-Hitter is simpler than you think. Throw a pitch, which creates a routine play, which one of the fielders turns into a routine out! Do it 21 or 27 times.
It also makes for a clean scorebook! Check out Kevin Brown throwing a N0-No against a power hitting San Francisco Giants!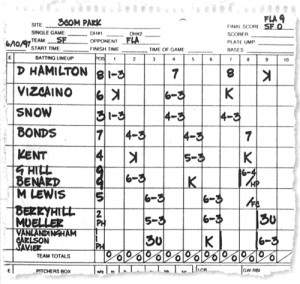 Avoiding paralysis by analysis this is why 6-4-3, 5-4-3, 4-6-3, and 3-6-1 is more rewarding than the Lottery Pick 3 when it comes to baseball. Keep baseball simple.
So, instead of crunching the numbers to determine your Win Expectancy stat, keep it simple by working on mechanics and fundamentals thereby becoming the best player, becoming the best team and in the end, YOU WILL have great numbers.
…because it truly is all about the outs!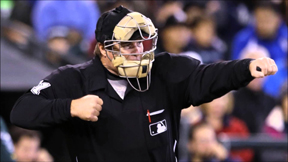 Like playing the numbers  – Before you pick out your uniform number it is worth noting Numerology believes all numbers with double digits [11, 22. 44, 55, 66, 77, 88, and 99] are capable of overcoming incredible needs. Recognize any of these?
11 – Luis Aparicio [White Sox, Orioles, Red Sox]
22 – Will Clark [Giants, Rangers, Cardinals]
33 – Eddie Murray [Orioles, Dodgers, Mets, Indians, Angels]
44 – Hank Aaron [Braves, Brewers]
55 – Orel Hershiser  [Dodgers, Indians, Mets]
66 – Rick Ankiel [Cardinals]
77 – Ivan Rodriquez [Astros]
88 – Albert Belle [Orioles]
99 – Manny Ramirez [Dodgers and White Sox]
"The more we share, the more we have." ~Leonard Nimoy
So, until the next Blog, Pass this one onto family and friends in baseball!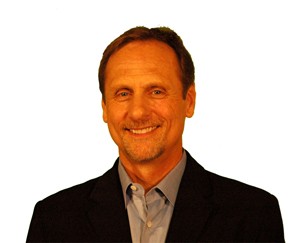 Al McCormick