Stan Musial originally signed with the Cardinals as a pitcher in 1938, brought up to the majors 3 years later after being converted to an outfielder. It only took two full seasons [e.g., 1943] for Major League Baseball to recognize and award Stan "The Man" Musial the first of his 3 MVP awards. A nickname he was given by his National League rival, the Brooklyn Dodger fans, who, on June 23, 1946 chanted, "Here comes the man!"  Baseball aside, these Americans recognized "The Man" who routinely destroyed Dodger pitching was patriotic enough to skip his 1945 baseball season and serve his country by joining the Navy?
Bob Costas stated, "All Musial represents is more than two decades of sustained excellence and complete decency as a human being."
Stan "The Man" Musial was a First Ballot Hall of Famer in 1969 and is a member of the All Century Team.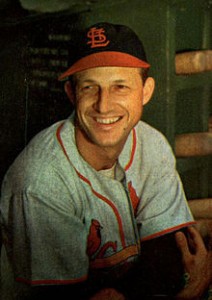 But there is more.
In 1960 Stan requested and accepted a $20,000.00 reduction in pay due to what he termed as a mediocre performance in 1959 [e.g., Table 1 below] due to his poor physical and mental conditioning. Were they below his overall performance, yes, but what is sad we all know mediocre Major League baseball players today who selfishly negotiate and renegotiate contracts without consideration for the fans much less respect for the game.
Table 1. Stan Musial 1959 Statistics
| | | | | | | | | | |
| --- | --- | --- | --- | --- | --- | --- | --- | --- | --- |
| AB | R | H | 2B | 3B | HR | RBI | BB | SO | BA |
| 341 | 37 | 87 | 13 | 2 | 14 | 44 | 60 | 25 | .255 |
Again, "[a] complete decency as a human being," who just happened to:
Win 3 MVPs
Hit 475 Homeruns
Held a lifetime Batting Average of .331
Have 3,630 Base Hits
Win 7 Batting Titles
So the question we all have to ask…
Are we humble enough to serve your country, recognizing that is what gives you the freedom to play the game you loved?
Are we humble enough to change the position you play just to break the line-up?
Are we humble enough to not let the greed factor get in the way and recognize it's the fans giving you this opportunity?
One thing is for sure, we know Stanislaw was!
Until next blog may I suggest you sign-up never miss another blog!
Click Here to receive the Blogs Automatically
Al McCormick